When it came to wedding day hair and makeup, we didn't go the traditional route. No crowded salons, no hurried stylists. We both got married in big cities — New York and LA — where we sought out and found a more intimate and personalized experience. We felt relaxed, catered to. It set the tone for our days in a way we'll always remember.
We came away feeling inspired to bring a similar approach to you, the Columbus bride. So we gathered a team of talented artists with a passion for bringing your bridal beauty vision to life. Whether in our private Columbus studio or on location, we'll deliver a seamless experience making you look and feel like the flawless modern bride you are.
xo, Kristin and Kailen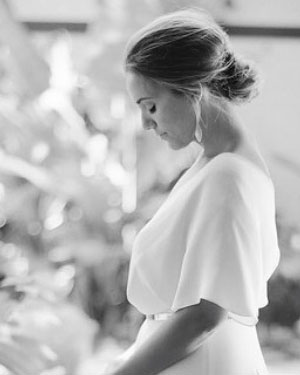 Where are you located?
Our private bridal studio is located at 850 King Ave. Suite C Columbus OH 43212.
When is the best time time to book my party?
We can accommodate as far in advance or within a short timeframe, depending on our availability.
Do you travel?
We can travel to a home, hotel or your venue. A travel fee will apply.
What is your pricing?
For information on packages and pricing, visit our Contact section and complete the form and our coordinator will be in touch with you.
Who are your artists?
Licensed hair and makeup artists with a passion for bringing your bridal beauty vision to life.
What products do you use?
Products used differ by artist and will be discussed at your trial.
Do you recommend extensions?
Most of the time we recommend extensions. They're available for purchase at The Bride Bar.
How small/large of a bridal party can you accommodate?
We'll accommodate a party of any size.
What about my engagement photos and other wedding events leading up to the big day?
For all of your other events, we recommend visiting our sister company, The Blowout Bar.
We're currently looking for independent contractors to join our team of talented artists. To apply, email your resume to hi@thebridebar.com.
The Bride Bar is located in Columbus near many hotels and popular wedding venues. We can also travel to you. If you're inquiring about your wedding, please fill out the form below. Our coordinator will be in touch with you within 2 business days.